In 2018, the Total group, via its GRP (Gas, Renewables & Power) division, embarked upon an energy consumption monitoring project for its B2B customers (companies, local authorities, care establishments, etc.). Ultimately, this project will be rolled out in all European territories where the company is active. This will bring the number of buildings monitored to several hundreds of thousands of units.
This vast project has a double foundation in Belgium. The supplier of the solution is none other than Opinum, while the pilot project was designed and field tested by Lampiris, after it was acquired by Total.
Learn More About Opinum Data Hub
Lampiris chose the Opinum Data Hub solution as the key element for its professional customer portal. The aim: to provide customers with a precise tool to monitor and track their energy consumption figures (electricity, gas, water, renewable energy sources), site by site and building by building.
The precision and the power of the Opinum solution make it valuable, allowing customers to diagnose their consumption according to the usable or occupied area, the purpose of the buildings, or even the weather conditions.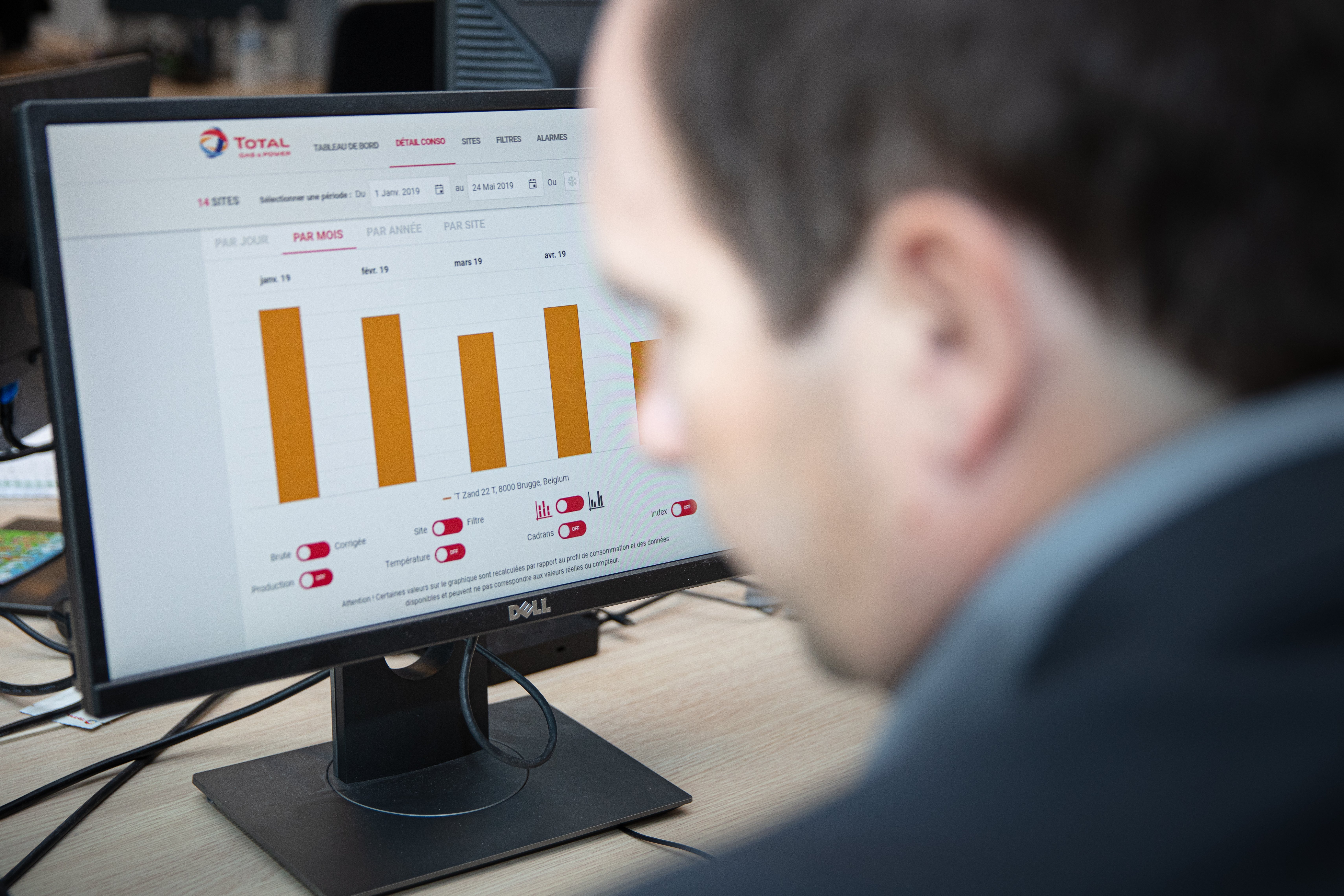 From testing to widespread deployment
After an entirely satisfactory pilot phase, Total plans to deploy the solution in all of its European B2B operational units. The roll-out will start in Belgium, followed by countries such as France, Germany and the United Kingdom… "We will start by deploying the new functions, developed with Opinum, for a limited number of customers this autumn," explains Stanislas De Crevoisier, head of the Smart Energy & Digital Lab department within the GRP (Gas, Renewables & Power) division. "Once this validation stage has been completed, we will quickly follow with deployment at European level, paying attention to the particularities, country by country, and if necessary customer by customer."
As well as having international reach, the Opinum Data Hub solution will take on a new dimension by pursuing functional development. For Total, this provides an additional competitive benefit. In France and Belgium, the rivals in question are Engie (Electrabel) and EDF.
To this end, Opinum and Total are working together to personalise and enrich the solution's functionality.
A high value commodity
"Opinum Data Hub will help us to broaden our range of services", states Stanislas De Crevoisier. "For example, we are in the process of integrating a capacity to improve how we take into account climate effects in the monitoring and analysis of energy consumption.
Another function concerns sub-metering, with the possibility of attributing consumption to different usages: powering an oven, heating, consumption of a server room… Finally, we will be refining monitoring, to move from monthly collection to transfers every ten minutes. We also have many more ideas to develop the solution…"
The complete analytical, deductive and even predictive potential of the Opinum platform will be fully exploited when Total has integrated the tool into its own environment. The company will then be able to offer its B2B customers a wider range of monitoring and analysis services, using tailored algorithms, as well as personalised service agreements.
"We will be able to propose specific services, to suit the profile of each customer: company, production plant, office space, bakery… This will not only allow us to offer everyone the type of service and energy monitoring that suits them, it will also help us be more dynamic in our operations, for example by warning customers about any significant change in their consumption profile…"
The almost real-time collection of data and consumption trends will be a crucial element, allowing precise segmentation by use, and guidance for optimising consumption patterns.
Book a demo of Opinum Data Hub
The advantage of a "beginner"
Total could have chosen a different solution, or even opted to develop its own tool. However, several factors convinced the group to place its trust in Opinum. "Dialogue with Opinum is excellent. The team is receptive, hard-working and constructive," explains Stanislas De Crevoisier.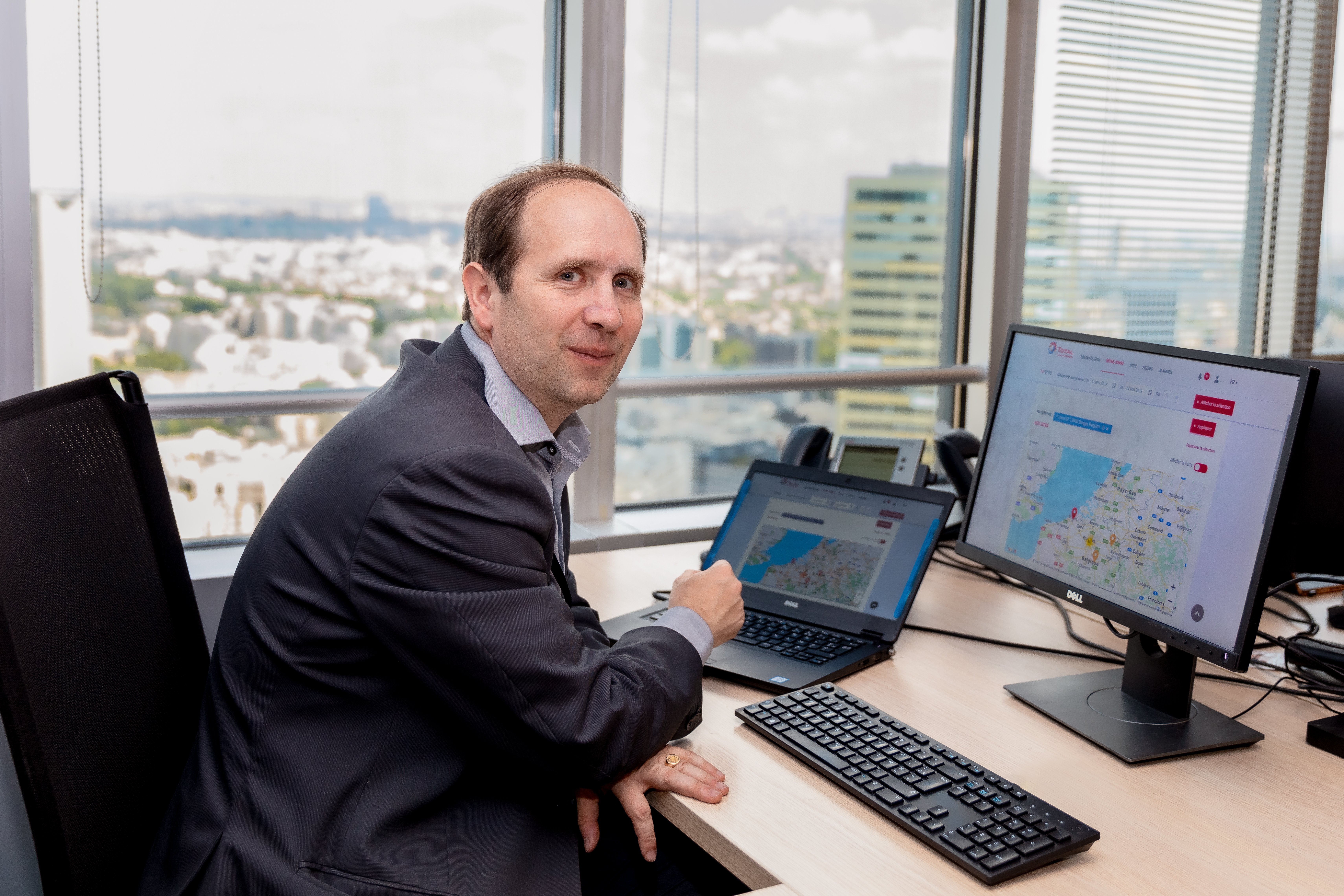 "The solution is effective and financially advantageous. This is important, given that monitoring energy consumption is now a 'commodity'. Customers expect access to this service at no additional cost, just as they use an app for their banking requirements."
In his eyes, Opinum's innovative start-up spirit and the solution it provides give Total the ingredients required to succeed as a challenger to Engie and EDF. "Opinum Data Hub is simpler, more agile and more adaptable than the often heavy solutions offered by the competition, which are more costly and not always effective. Opinum is a small, dynamic and highly agile company. With them, we could start with a blank slate, allowing us to be more effective."
Moreover, Total adopts the lean, iterative method that is so important in the start-up spirit. "The developments are iterative, taking into account the particularities of the business, location and customer. We observe how B2B customers use this tool and what they say about it. A project manager systematically consults customers, to feed back ideas. Opinum also tells us about the requests and reactions of customers who work in domains other than energy. This loop-based progression is more effective."
Total is continuing to grow its ambitions in its Gas, Renewables & Power division. For example, the company acquired Direct Energie, a major player on the gas and electricity market, which has also completely adopted the Opinum solution.
"The Opinum project is part of a series of data-oriented projects on which we are working: predictive maintenance, management of solar sites, segmentation, customer portal, etc."
This could be just the beginning. Based on Total GRP's positive experience, after integration into the Total environment, Opinum Data Hub could potentially interest other branches of the company…
Stanislas De Crevoisier: "Opinum is a small, dynamic and highly agile company. With them, we could start with a blank slate, allowing us to be more effective."
To learn more about Opinum Data Hub and all the possibilities it offers, check out our website page. If you're interested in testing out our platform, click here for a free trial.
Read also:
How belgian energy management technology is serving innovation in Vietnam
De Watergroep prepares the deployment of smart meters with Opinum