The French industrial group Socomec, which is almost a century old, is at the heart of the dual transition of energy and digital technology. Specialized in industrial energy performance management products and services, it has found in Opinum a key partner to open up new service perspectives in data analysis and exploitation.

"TALENT, EXPERTISE AND OPEN-MINDEDNESS ARE WHAT COUNTS"
It is difficult to sum up 100 years of history in a few lines... With, moreover, significant changes in the original business and a history marked by acquisitions. Socomec, a company of Alsatian origin that has taken on an international dimension over the years, was founded in 1922. Its business at the time was electromechanical constructions (switches, circuit breakers, fuses, junction boxes, etc.). In 1968, the company started to work in the field of electronics, by adding power inverters to its catalog.

Learn More About Opinum Data Hub

Today, the company is renowned for its energy management solutions: measurements of energy performance and efficiency of buildings and facilities, conversion, storage and restitution of energy (including renewable energy). Exclusively B2B oriented, the company targets professional customers and markets: industry, hospitals, data centers, infrastructure, renewable energy players, etc.

"We must seize the opportunities offered by the energy transition and the digital revolution," explains Vincent Brunetta, chief digital officer of the Socomec Group. "We have therefore acquired and developed new skills in recent years, in energy services and in digital technology, in order to extend our catalog of services and seize new opportunities: to make our products, systems and services evolve by making them 'cyber-physical' and by adding advanced digital functions."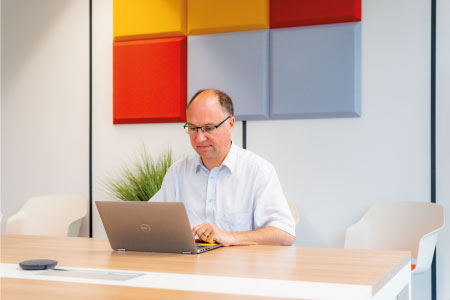 A POLE OF DIGITAL COMPETENCES
Starting in 2014, through acquisitions (including a French cloud operator, a software development company and an IoT specialist), Socomec began adding a new - digital - section to its activities through its E'nergys branch. A whole catalog of services and skills has thus been added to its product and system offering: data hosting, development of energy-related applications, energy auditing advice for buildings and industries, maintenance of the critical electrical chain, etc.
Although the group and its digital division develop certain tools themselves, Socomec does not want to "reinvent the wheel" and is therefore also looking for partners to integrate third-party components and solutions into its services.


Book a demo of Opinum Data Hub
This is how the French company came across Opinum. "Opinum gave us the opportunity to integrate essential components for our connected solutions in terms of energy data storage and processing into our own platform. Its Data Hub solution allows us to develop new services and to offer renewed value to our own customers, particularly for the energy supervision of buildings and industrial installations."


The Socomec Group chose to work with Opinum for several reasons. Starting with the fact that "their solution is very open and easy to integrate. In addition, the two companies operate on a reciprocal proposal basis. For example, Socomec was able to influence Opinum's product roadmap. Conversely, Opinum has provided us with a complex data calculation capability that we didn't have before. Our development and hosting teams meet regularly and have established a very good climate of trust. We have found a good complementarity between the two companies, cross interests, whether in terms of commercial, partnership or strategic relationships."


A PARTNER NOT LIKE THE OTHERS
For Socomec, Opinum is not just a "simple" supplier of components and additional potential that can benefit its service platform. It is also a partner. For the needs of one of Opinum's major French customers, who required a dedicated hosting platform on a sovereign cloud, E'nergys became the host of Opinum's Data Hub platform. Operator for the occasion: Agora Calycé, entity of the E'nergys digital division.

Agora Calycé deploys a range of services (management and operation of IaaS, PaaS and SaaS IT infrastructures, resource management, hosting, recovery plans, continuity plans, etc.) both for its own customers (SMEs, manufacturers, digital service providers, etc.) and for the needs of the Socomec group itself. The hosting company currently offers its services via four data centers in France (a fifth is under construction in Alsace), two others in Singapore and Shanghai and should in the future also deploy its services in North America.

Socomec-Opinum's relationship in France is therefore dual. "We have implemented two platforms. One, based on Opinum potential, for Socomec customers, to whom we offer our additional services. The other, a 100% Opinum platform, operated jointly by Agora Calycé and Opinum, for Opinum's French customers who want to use Opinum solutions on a sovereign cloud. While this platform currently serves only one client, there is no reason why it cannot be opened up to other Opinum clients in the future - in France and even outside France...".
"Opinum has provided us with data processing capabilities that we did not have before." - Vincent Brunetta Chief Digital Officer
"Opinum is a key partner for Agora Calycé. Thanks to that, we can offer products and services across the entire value chain." says Vincent Brunetta. The relationship between the two companies is still new. The first contacts date back to 2019. After the necessary preparation and testing phase, the hosting and management platform on French soil went live in late spring 2021. It currently processes data from several hundred products and equipment (inverters and other equipment). The volume of data processed is still quite small, but the ramp-up is underway. "What convinced us," says Vincent Brunetta, "was the Data Hub's ability to process large volumes of data, to handle tens of thousands of data entries at the same time."


Here again, Opinum and Socomec share the roles: Opinum processes the raw data, aggregates it, and performs mathematical calculations, while Socomec performs more energy-related calculations. "By applying various algorithms, we can, for example, correlate data to detect an absence or anomaly in the production of data on a given piece of equipment... Thanks to Opinum, we are now able to carry out more complex calculations and integrate data from other operators - such as Gdf or Edf..."


The purpose of this processing is multiple: monitoring and management of electrical and energy equipment, preventive maintenance, etc. "Our primary objective is to carry out proactive maintenance and determine the most appropriate time to intervene at our customers' sites. Our solutions guarantee the electrical continuity of equipment, which is an absolute necessity in hospitals, for example. Our solutions are able to take into account the specificities of each environment, some equipment being more stressed than others and therefore requiring more frequent replacement. We are therefore talking about adaptive and preventive maintenance, before moving on to the prediction stage. "Once we have mastered preventive maintenance, we are able to guarantee greater precision and measure deterioration. At this stage, the intelligence is quite simple. The next step is to optimize.
When it comes to energy storage - and especially when working with renewable energies - you have to be able to determine when you need to store energy, especially taking into account the weather data when working with renewable energies. We need to help customers optimize their energy use, help them determine when they can or should consume the energy they have in reserve or, on the contrary, store more of it - and this, depending on fluctuations in energy prices and any other factor."

Brunetta concludes: "The relationship and trust that has been built with Opinum is based on proven expertise on both sides. The fact that both companies have agreed to French hosting proves the value and interest they both see in it."
To learn more about Opinum Data Hub and all the possibilities it offers, check out our website page. If you're interested in testing out our platform, click here for a free trial.
Read also:
How belgian energy management technology is serving innovation in Vietnam
De Watergroep prepares the deployment of smart meters with Opinum