Optiwatt and its client AG Real Estate (among others) rely on Opinum Data Hub to play the leading role in energy optimization for both new and old buildings. The planet is worth it.
It is always great to see that economic and virtuous interests can coincide and combine. As awareness of the urgency to protect the planet grows, Opinum's Data Hub solution is increasingly becoming an effective lever for action.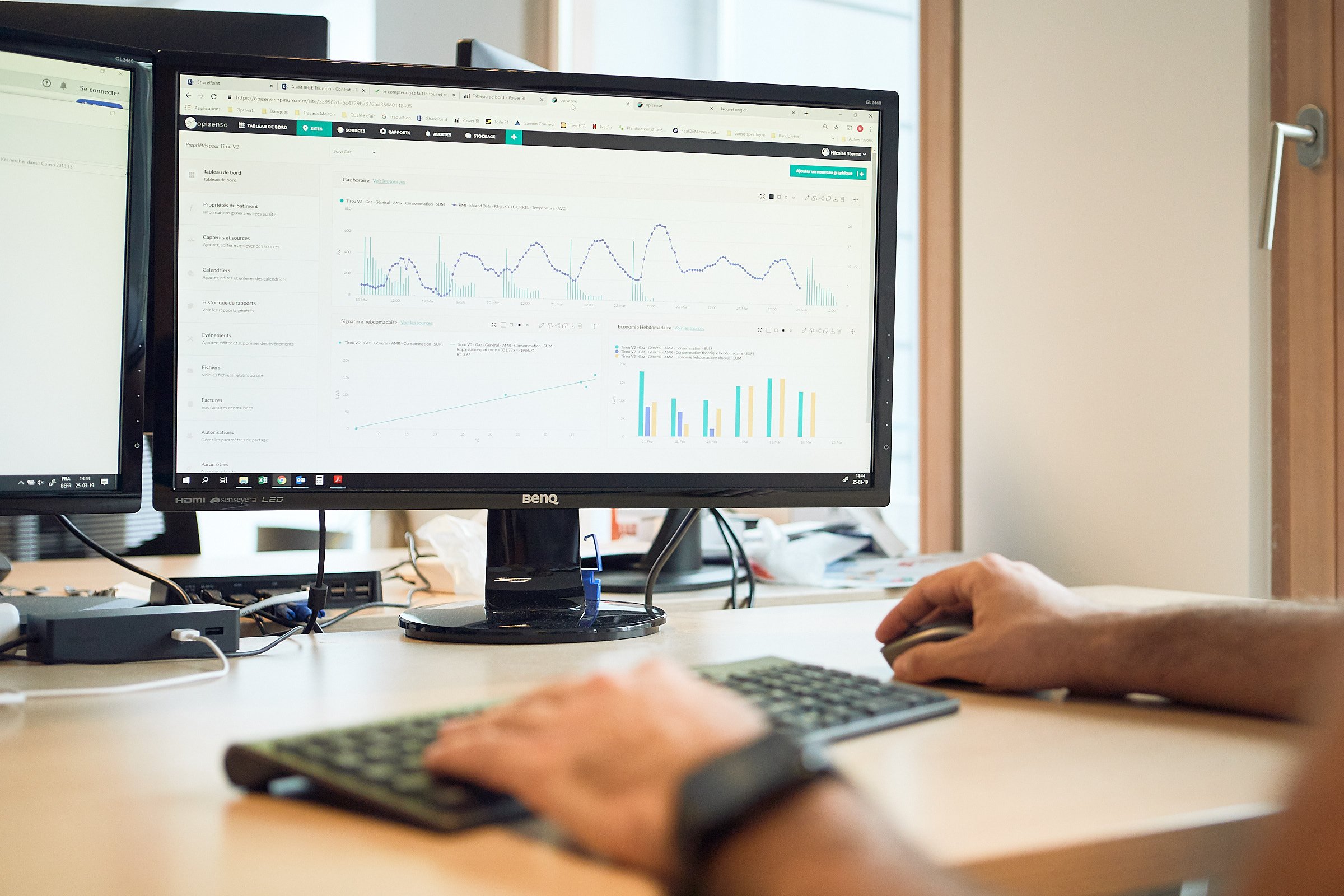 "Reducing the energy consumption of the real estate stock by 30%, even for old buildings is perfectly possible without major investment," says Nicolas Storms, executive director of Optiwatt, a company specializing in technical studies and in monitoring and optimizing the technical facilities of buildings. Its client base consists mainly of real estate developers, industrial companies and public stakeholders (local communes and CPAS).
For several years now, Opinum has been the focus of the company's efforts to provide a robust and flexible energy monitoring solution. Too often, this type of solution becomes constrained, inflexible and specific to a type of supplier or hardware. The result, sooner or later, is a dead end.
At the other extreme, Excel-style solutions require a considerable amount of work in user management, data security and compatibility.
In either case, it was not appropriate for either our requirements or our philosophy of maintaining total scalability, robustness and the ability to share data with our clients."
Nicolas Storms (Optiwatt): "We have the freedom to decide not only the type of sensors to be placed, but also how data is returned. Data Hub does not in any way hold the customer or the provider captive to its solution."
One of the other advantages of Opinum is that it is easy to integrate into pre-existing energy monitoring environments, such as sensors, monitoring systems and data processing software.
"Data Hub does not in any way make the client or the provider captive to its solution. In addition, excellent collaboration has been established between us to further the product.
It's a win-win situation: we benefit from the richness and efficiency of their solution, and we provide them with our expertise in energy monitoring."
The building in all its aspects
The comparison may not be totally justified, but the Opinum Data Hub solution is a little like a brain, including its qualities of plasticity. The data collected can be information concerning fuel consumption, electricity, water, meteorological or technical data from distribution system operators or control systems. "Data Hub is suitable for a multitude of uses. Soon we may be adding data from CO2 probes and other sensors.
One of Data Hub's main strengths is its ability to compile all of this data, regardless of format or frequency, making it comparable and interpretable."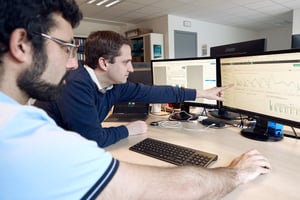 Thanks to Opinum Data Hub, Optiwatt switches between a predetermined set of variables. This enables the system to analyse the energy behaviour of a building and immediately come up with specific indicators, such as the number of kilowatts per hour by m2, the overconsumption percentage, deviations, weekly standard usage and theoretical weekend usage.
"On the basis of historical data and our analysis, we know how a building is supposed to behave in a given situation and can therefore compare theoretical consumption to actual consumption. For example, automatic calculations developed with Opinum allow you to apply a filter to the main values on Monday morning and to visualize possible deviations instantly. Or to create a one-year time series, visualize consumption on all the buildings we manage, or compare them according to their size."
Efficiency gains are significant, says Nicolas Storms. "The analysis is instant. This saves time both for us and for the end user. Deviation may indicate that a heating stop control failed to function or that a technician did not restore a regular schedule following maintenance work.
In addition to optimizing consumption, this also enables the life of the equipment to be extended, avoiding unnecessary use or predicting the need for maintenance.
In addition, we can easily export report data for the client and provide it in the form they want.
AG Real Estate
One Optiwatt and Opinum client is AG Real Estate, Belgium's largest real estate group, whose portfolio includes office buildings, shopping centres, warehouses and residential buildings.
For Toon Beerens, Property & Sustainability Manager at AG Real Estate, the slogan People Planet Profit is not a vague formula but rather a virtuous equation to be accomplished on a daily basis. "We want to contribute positively to the life of the community and to the safeguarding of the planet. The consumption of our buildings is one of the major factors. With Opinum Data Hub, we can implement proactive management, detect anomalies rapidly and respond quickly."
Data Hub's constant monitoring and interpretation has a specific purpose for AG Real Estate: targeting minimum consumption thresholds. "As soon as a limit is exceeded, we are notified. We can closely follow the overall consumption of the park by each building, including by type of space (whether communal or private) divided by floor. The detail, if we want, can go down to every individual screen, plug or light.
At the moment, we are only able to view by floor type, but we are testing other scenarios."
Toon Beerens (AG Real Estate): "Energy compatibility allows us to track the energy footprint of our real estate portfolio over time and reduce it in terms of consumption and CO2 emissions."
This is not just about small savings or trivial warnings. "One Monday morning, I received an overconsumption report for one of our buildings. The building had apparently used 3,000 litres of water a day. Our maintenance team was sent immediately to discover the cause. Such warnings inform us of any unusual usage for all the different utilities involved, such as gas or electricity"
Clients also have access to their usage profile for the area they occupy. During the course of 2019, buildings managed by AG Real Estate will gradually be equipped with a large screen at reception or at the entrance, allowing anyone entering the building to visualize the results of optimization efforts.
Efficiency is not an empty phrase at AG Real Estate. The analysis, interpretation and creation of warnings and advice, based on the substantive work carried out by Data Hub have been entrusted to Optiwatt, which is remunerated for the savings achieved.
As a result of these savings, the real estate group is reinvesting in active measures, including the renovation of facilities and solar panel fitting.